The Death of a Loved Duck
K. Praslowicz
---
---
Hi! I don't do as much text blogging as I used to, as most of my efforts have shifted towards video content. Please consider subscribing to my YouTube channel.
View The Channel
Whenever someone who has appeared in a photograph of mine dies, I get this feeling that the photo has been elevated a bit. Previously it was Old Bob. Before that it was Wesly Ngetich. Today, after reading the local news, it appears to be a duck named Boo Boo.
Hermantown man says he will never forget attack by bobcat
Lucia was working on his laptop computer and hanging out with his pet ducks and goose when a bobcat entered his garage at about 11 p.m. Friday.
…
After a two-hour search, Lucia couldn't find Boo Boo and he believes the bobcat killed the goose.
…
Lucia had Boo Boo for about six years.
"You know how people have dogs?" Lucia said as he got teary-eyed. "He was my dog. I would bring him down to Canal Park with a leash on him. … I get emotional thinking about it."
The full article is located at duluthnewstribune.com.
Canal Park is a frequent stomping ground of mine when I head out to do street photography, and the man with a duck was a regular sight that gave the area some color. The duck will be missed.
Here is a photo I snapped of Gary and Boo Boo back in April 2008.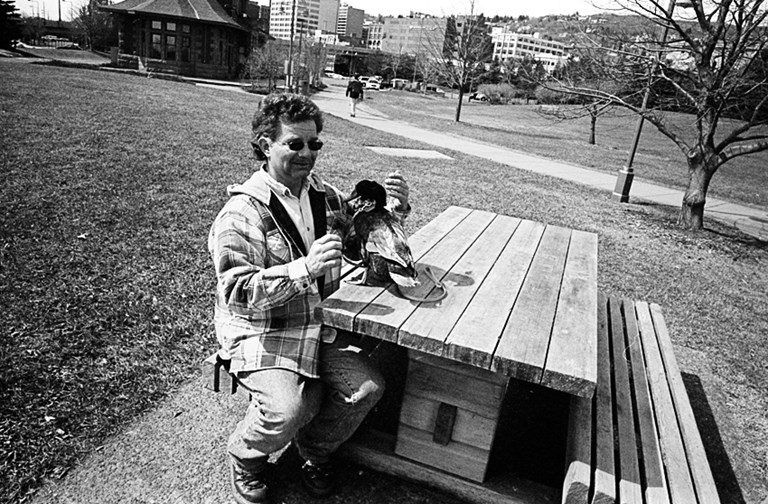 ---
---