TIME-O-LITE - 1947 Advertisment
K. Praslowicz
---
---
It has been a while since I've yanked an old advertisement for some vintage photography equipment out of my collection to shared with you all. Figured I might as well change that.
I Love All My Family and TIME-O-LITE, Too, Son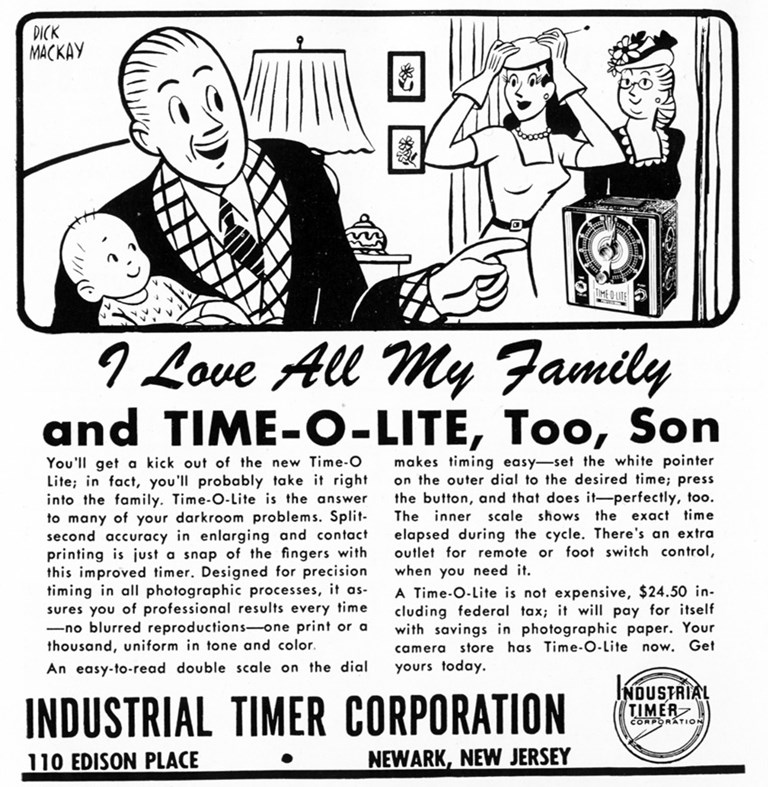 You'll get a kick out of the new Time-O-Lite; in fact, you'll probably take it right into the family. Time-O-Lite is the answer to many of your darkroom problems. Split-second accuracy in enlarging and contact printing is just a snap of the fingers with this improved timer. Designed for precision timing in all photographic processes, it assures you of professional results every time—no blurred reproduction—one print or a thousand, uniform in tone and color.

An easy-to-read double scale on the dial makes timing easy—set the white pointer on the outer dial to the desired time; press the button, and does it—perfectly, too.

The inner scale shows the exact time elapsed during the cycle. There's an extra outlet for remote or foot switch control, when you need it.

A Time-O-Lite is not expensive, $24.50 including federal tax; it will pay for itself with savings in photographic paper. Your camera store has Time-O-Lite now. Get yours today.

Industrial Timer Corporation.
110 Edison Place
Newark, New Jersey
A few thoughts on the Time-O-Lite subject
$24.50 is equivalent to $242.30 in 2009 dollars according to Westegg.com Inflation Calculator

Fair warning if you try to research the name Dick Mackay which appears in the upper left of the drawing. I ran his name through Google to see if he was a famous cartoonist or illustrator of the period. Google assumed that I spelled the name wrong and was trying really trying to find information on Dick Mckay instead.

I now know that Dick Mckay is a gay porn star. I know this because I did the search on Google images with safe search off. Do the math.
---
---