Wesly Ngetich and I
K. Praslowicz
---
---
Hi! I don't do as much text blogging as I used to, as most of my efforts have shifted towards video content. Please consider subscribing to my YouTube channel.
View The Channel
Recently, I've been thinking a small bit about shaking the belief that a photo has to meet some sort of technical standard to be worthy of sharing. I was thinking a bit deeper about the subject in the shower today and believe that a watershed moment in changing my mentality about photography came the day that Wesly Ngetich died.
A brief history Wesly Ngetich
Wesly Ngetich was a Kenyan international athlete. He won the Grandma's Marathon in 2005 and 2007, and placed second in the 2006 Houston Marathon my a mere eight seconds.
During the violence that outbroke during the 2007-2008 Kenyan crisis, Ngetich got hit by a poison arrow which took his life.
2007 Grandma's Marathon
At the time, one of my friends was currently living in a house that was right on the course of the marathon. He decided to throw a big marathon day party where we would all show up at 8:00 am and drink and eat all day as we watched a stream of seven thousand people flood by. I had purchased my Yashica Mat 124G two weeks earlier and decided that it would be the camera I'd bring to shoot with that day.
It was still early morning when Wesly Ngetich came running past our little party. The sun was still hanging low in the sky across the street and was in the framing of the scene. I took a single photo as he passed.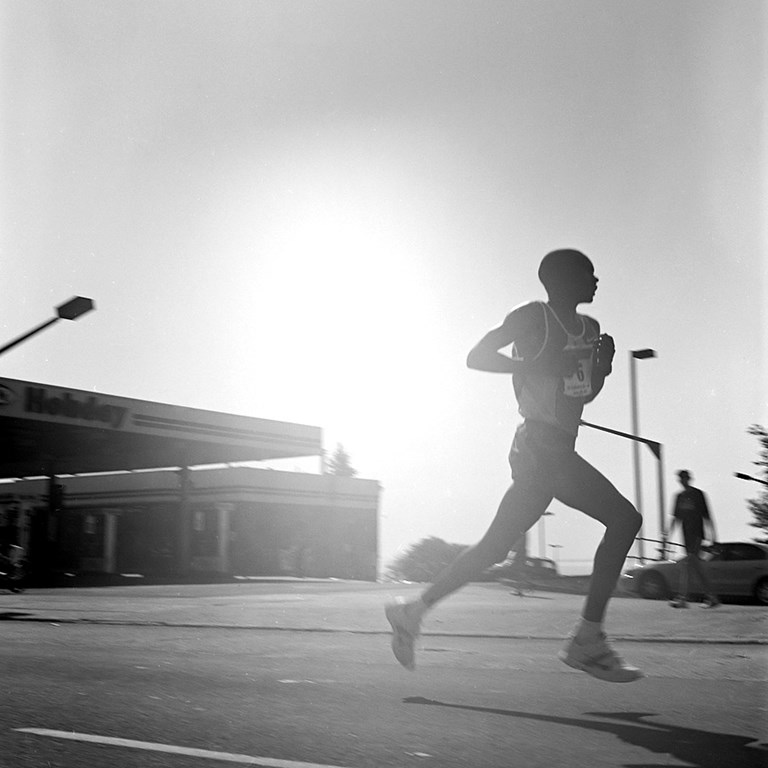 Twin Lens Reflex cameras are well known for having lens designs that can create some pretty intense lens flare even under normal lighting conditions conditions. Although I dind't want lens flare, I was just asking for it by shooting without a lens hood directly into the sun with a TLR camera. When I looked at the initial proof of the image, I was saddened that my only photo of the winner was victim to some very serious lens flare.
Still being in the silly mindset that crisp images without massive lens flare was what people would want to see, I put my failed negative into a storage binders and forgot about it for seven months.
January 22nd, 2008
January 22nd, 2008 was the day I seen a news headline saying that the Marathon winner Wesly Ngetich had been killed. I pulled out the negatives I had shot that day of the first runners to pass, and found the bad negative of Ngetich. This time it was different.
Seven months before I was caught up in the technical failures of it. This time though I could see past the haze of the lens flare and could pick out subtle details that I hadn't noticed.
The first time I assessed the image, I hadn't even given it enough time to notice that neither of his feet were touching the ground. A subtly that I think really helps make the image. Running is easy for him. So easy that he can just above the ground and let the heat of the sun push him along the road.
Did I need to care that I didn't throw enough flash at the scene to illuminate his face at all? Nope. We see a runner gliding by in perfect runner's form. All the identification we need is the number on his bib.
Conclusion
Death sucks. I don't really like the idea that someone getting killed is what set me straight in photography. That isn't something I can change though. Death is to photography as oak barrels are to Bourbon whiskey. And in certain genres of photography, caring too much about the details is death to the photograph.
---
---