For The Soused Photographer: TLR Camera Flasks
K. Praslowicz
---
---
Surely by now you've seen the coffee mugs being produced which look like Canon lenses?
Great—if you are a digital photographer who shoots Canon brand equipment. But, what if you are a Nikon user? No fear, as there are also mugs made to look like Nikon lenses as well. The Nikon versions even have a functional zoom!
While these are nice novelties for the digital photographer, there aren't any options for us film photographers who like to drink stiffer liquids from a camera shaped containers—or are there?
Much like the cameras we use for our film photography, we need only look to the past. Welcome to the fun world of vintage ceramic twin lens reflex flasks!
The Schnapps-O-Flex
First up is the Schnapps-O-Flex, a ceramic flask from Japan.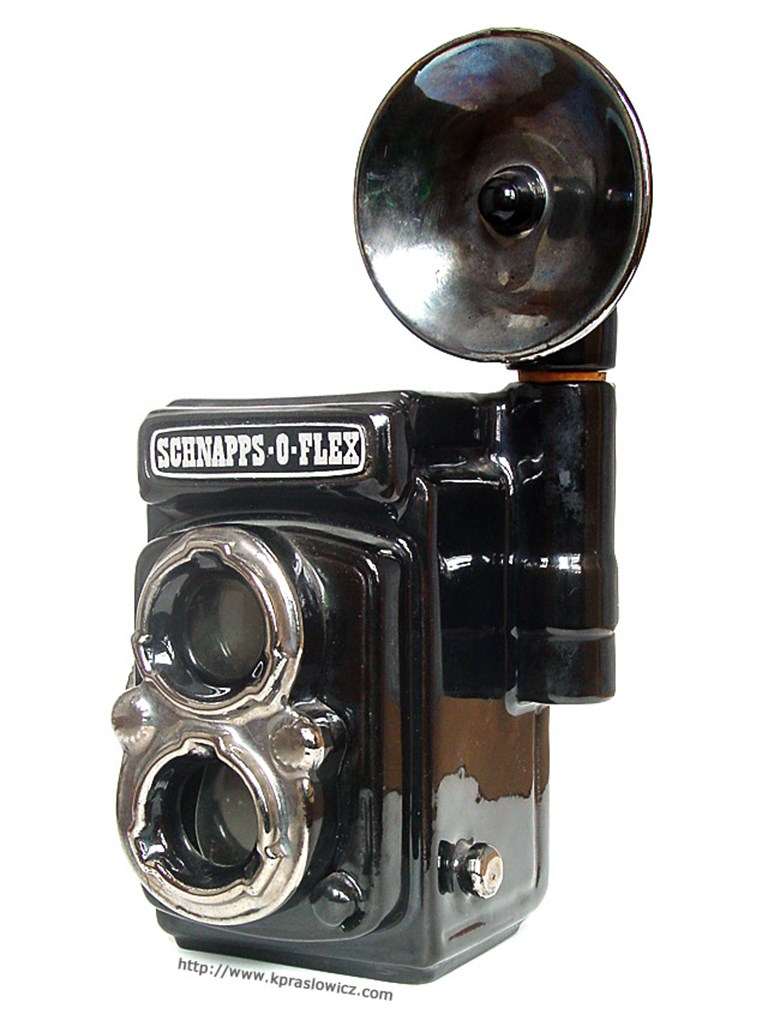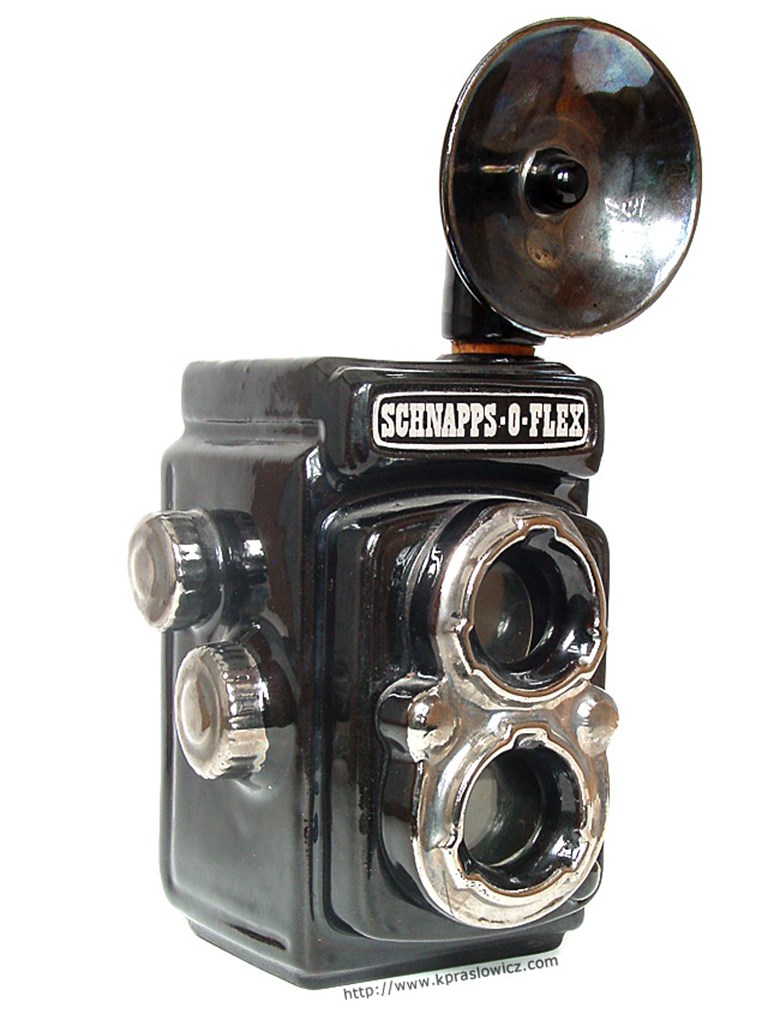 The Schnapps-O-Flex features authentic looking, bayonet style filter mounts and a parabolic reflector pan which doubles as the stopper for the flask.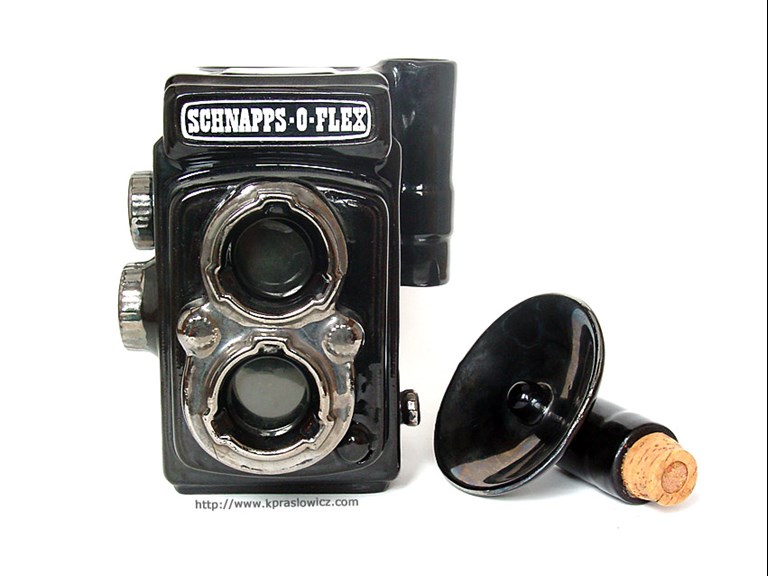 The Schnapps-O-Flex will look great on your bookshelf or mantle. Your photographer friends will greatly appreciate its elegant style as you entertain during evenings of drinks and discussion about Camera Lucida. The Schnapps-O-Flex will guarantee that you throw the best photography related social gatherings on the block.
But what about the alcoholic photographer on the go?
The Reflex Shot
Behold the Reflex Shot! This TLR flask is designed with utility first. Utility which will allow you to continue drinking wherever fine photography is permitted.
Unlike the Schnapps-O-Flex, the Reflex Shot also features functional strap lugs which will allow you to sport a sporty strap. While using a strap, the Reflex Shot can be kept conveniently around your neck guaranteeing that you'll never miss any opportunity for a perfectly timed shot.
Even though the strap permits the Reflex Shot photographer to carry his flask out in the field, there is no need for him to be any less social than a Schnapps-O-Flex owner. While not depicted in the above images, the lenses of the Reflex Shot double as portable shot glasses. The pleasure of the Reflex Shot can easily be shared with anyone, anywhere at anytime! No extra bags are required.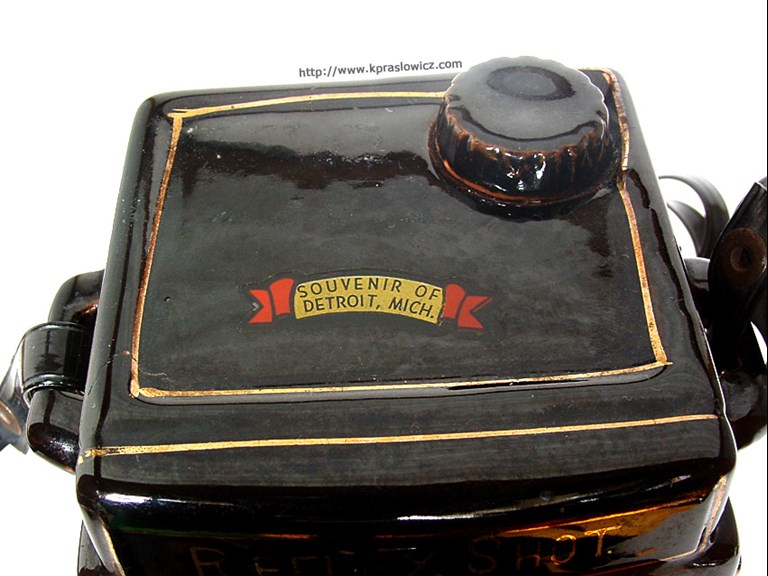 The Reflex Shot is truly the best Souvenir of Detroit you'll ever own. With its gold accented trim, The Reflex Shot is the pinnacle of fashion meeting function.
Pictures of the complete Reflex Shot kit with shot glass lenses can be seen at tlr-cameras.com. The shot glass lenses are missing from the one I own, so I wasn't able to include them in the photos.
---
---