The Time I Found A Medium Format Film Wrapper
K. Praslowicz
---
---
Hi! I don't do as much text blogging as I used to, as most of my efforts have shifted towards video content. Please consider subscribing to my YouTube channel.
View The Channel
It was a blustery non-winter winter day today in Duluth. As I drove to work this morning I could see by the color of the water that shores where getting pounded by all the fury of Lake Superior.
Lunch time rolled around and the winds hadn't let up, so I decided to take a little stroll to the shore to watch the waves. I don't think I've watched this spectacle up close since since early 2013. (Does quick research) OMG. I haven't watched this spectacle since March 2011. Nearly five year ago? What the hell? Where does the time go.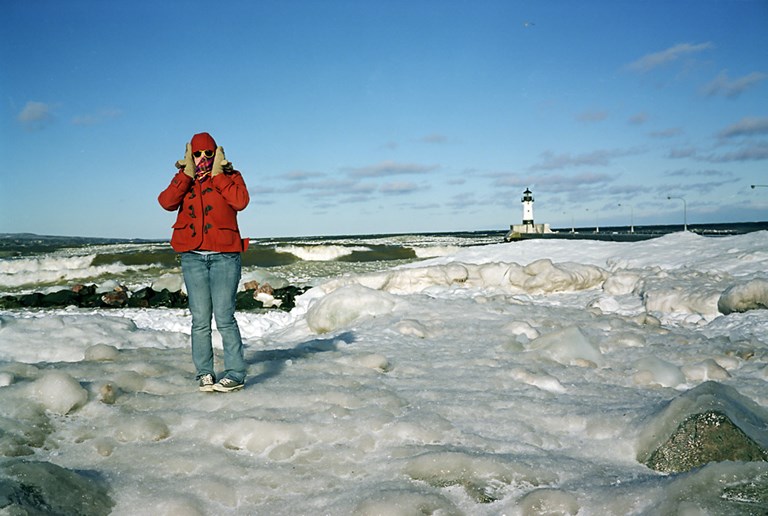 Regardless, two years or five, it has been far too long. So off I went with my medium format Bronica SQa slung over my shoulder, and an unopened roll of Portra 400 in my pocket.
I enjoyed the waves for a while. Clicked off a few frames with the Bronica, and made a few Instagram movies for the kids.
I managed to finish off the roll of film that was in the camera, so I scuttled off to the nearby maritime museum to reload my camera without chilling my hands and further than I had when I took my gloves off to take the Instagram videos. Bronica got reloaded just fine, and I shot a few more frames before needing to head back to work.
It was then during the return trip that I noticed it on the ground. A bright yellow foil wrapper from a roll of Kodak Medium format film.
I though to myself "Oh. That must have fallen out of my pocket when I walked past here earlier." as I started bending down to pick it up. But then I notice something that felt like a bolt of lighting hit me.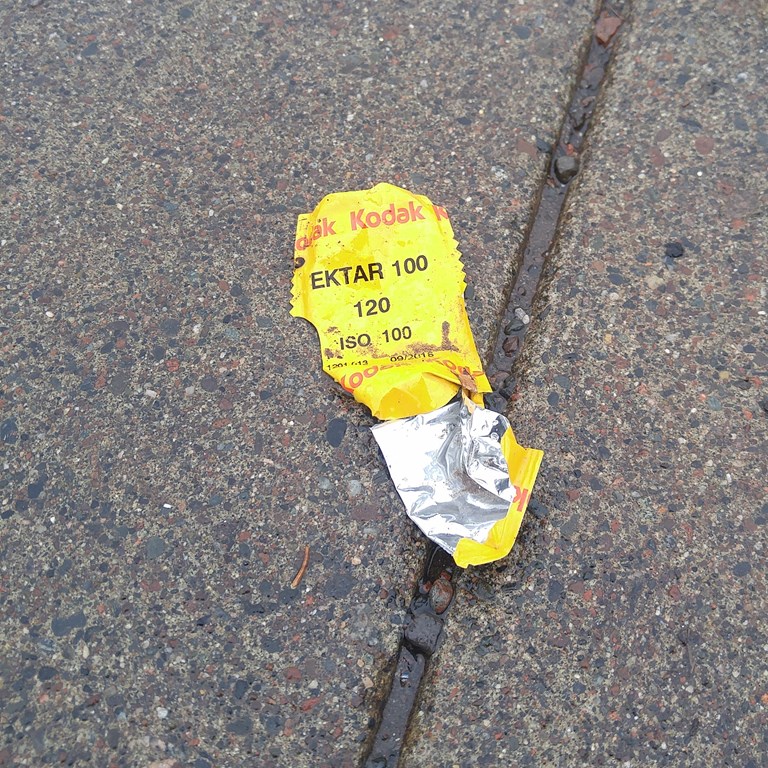 KODAK EKTAR 100!!
A quickening panic set in. "Why did I have a wrapper for Kodak Ektar 100 on me? I've only been shooting Kodak Portra 400 for years! I do have some rolls of Ektar 100 in my stuff. Could I have accidentally grabbed one unknowingly? Do I have a roll of Ektar 100 waiting to be developed that is underexposed because I through it was Portra 400?"
I was so confused. It didn't make any sense!
Then, observation number two struck. The expiration date on the wrapper was 2016. Let that sink in. 2016. This was fresh Kodak Ektar 100! All of the medium format EKtar I have on hand I purchased so long ago that the expiration date is sometime in 2012.
I couldn't have dropped this wrapper. It wasn't my piece of film litter! It could only mean one thing…that it belonged to someone else!
I'm not alone out here.
---
---