Sylvania SUPERFLASH - 1949 Advertisment
K. Praslowicz
---
---
Hey everybody! It's Monday Night Vintage Night!
Don't remember Monday Night Vintage Night? Cool. I run this website and neither did I until I came across it while cleaning up some old blog entries. But what the heck, I'm sitting on tons of old camera advertisements, and advertisements have that weird paradox where people hate them when they are current, but the adore them when they become old and outdated. So lets spin up some more Vintage Monday posts!
---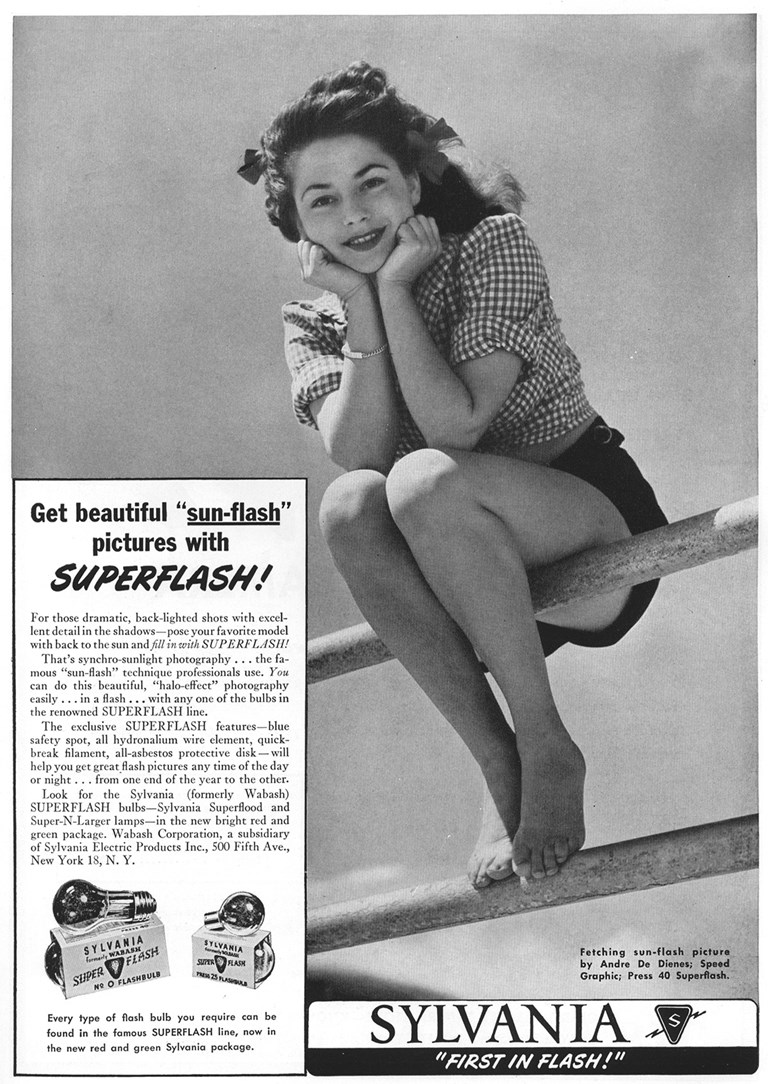 Get beautiful "sun-flash" pictures with Seuperflash!
For those dramatic, back-lighted shots with excellent detail in the shadows—pose your favorite model with back to the sun and fill it in with SUPERFLASH!
That's synchro-sunlight photography … the famous "sun-flash" technique professionals use. You can do this beautiful, "halo-effect" photography easily …in a flash… with any one of the bulbs in the renowned SUPERFLASH line.
The exclusive SUPERFLASH features—blue safety spot, all hydronalium wire element, quick break filament, all-asbestos protective disk — will help you get great flash pictures any time of the day or night … from one end of the year to the other.
Look for the Sylvania (formerly Wabash) SUPERFLASH bulbs—Silvania Superflood and Super-N-Larger lamps—in the new bright red and green package. Wabash Corporation, a subsidiary of Sylvania Electric Products Inc., 500 Fifth Ave., New York 18, N.Y.
---
Every type of flash bulb you require can be found in the famous SUPERFLASH line, now in the new red and green Sylvania package.
---
*Fetching sun-flash picture by Andre De Dienes; Speed Graphic; Press 40 Superflash.
---
---