Ansco Color Film - 1949 Advertisement
K. Praslowicz
---
---
Shoot…develop…print true color by Ansco!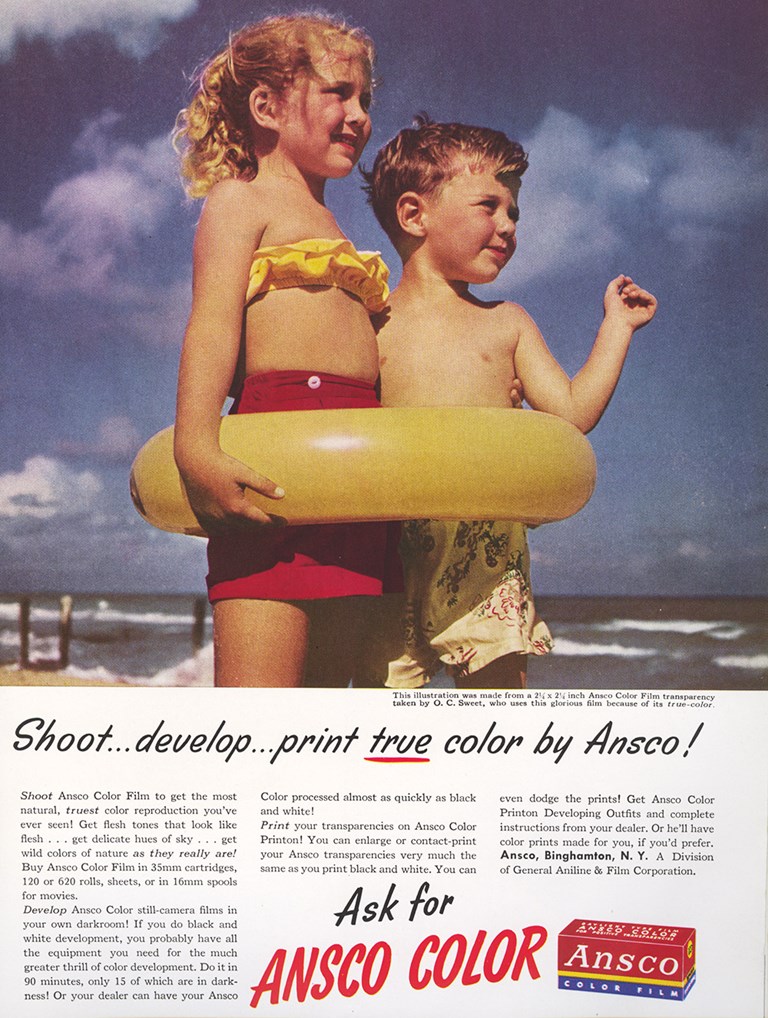 This illustration was made from a 2¼ x 2¼ inch Ansco Color Film transparency taken by O.C. Sweet, who uses this glorious film because of its true-color.
Shoot Ansco Color Film to get the most natural, truest color reproduction you've ever seen! Get flesh tones that look like flesh … get delicate hues of sky … get wild colors of nature as they really are!
Buy Ansco Color Film in 35mm cartridges, 120 or 620 rolls, sheets or in 16mm spools for movies.
Develop Ansco Color still-camera films in your own darkroom! If you do black and white development, you probably have all the equipment you need for the much greater thrill of color development. Do it in 90 minutes, only 15 of which are in darkness! Or your dealer can have your Ansco Color processed almost as quickly as black and white!
Print your transparencies on Ansco Color Printon! You can enlarge or contact-print your Anscro transparencies very much the same as you print black and white. You can even dodge the prints! Get Ansco Color Printon Developing Outfits and complete instructions from your dealer. Or he'll have color prints made for you, if you'd prefer.
Ansco, Binghamton, N.Y. A Division of General Aniline & Film Corporation.
Ask for Ansco Color
Hey
So I've been experimenting with video production again and am trying to grow my YouTube channel with some photography related videos. I'd appreciate it if you hit the button below to subscribe!
---
---