Anonymous Photographs: The Austin Texas Edition
K. Praslowicz
---
---
Hi! I don't do as much text blogging as I used to, as most of my efforts have shifted towards video content. Please consider subscribing to my YouTube channel.
View The Channel
I recently took a trip to Austin Texas for a few days. I did a lot of neat things while I was there such as eating tacos, sweating, observing gentrification, wondering why Texas highway exchanges are a hundred feet tall, and seeing the Chili's at 45th and Lamar.
I also spent some time in various thrift and antique stores and came home with a pile of found photographs to add to my collection that I will be sharing in this blog post.
An interesting aside on the topic of collecting other people's photographs for a moment. One store in Austin had a bucket of 35mm slides next to a light board that could be used to easily inspect and slides for purchase. Given that I've been to enough stores that make seeing the goods a chore for potential buyers, it was nice to see a place doing this.
However, they also wanted $5.00 per slide, so maybe they were a bit too self-aware. For context, I only paid $4 for the entire vintage cat collection that I posted last fall. Although I imagine I'd sell my entire negative archive for $5/frame right now if someone offered to buy it at the price.
The Small Photographs
Ok. Let's get to the anonymous photographs that I brought home from Texas. I'll start with the small black & white prints I acquired.
To segue from the aforementioned vintage cat collection, here are the Texas photographs containing cats.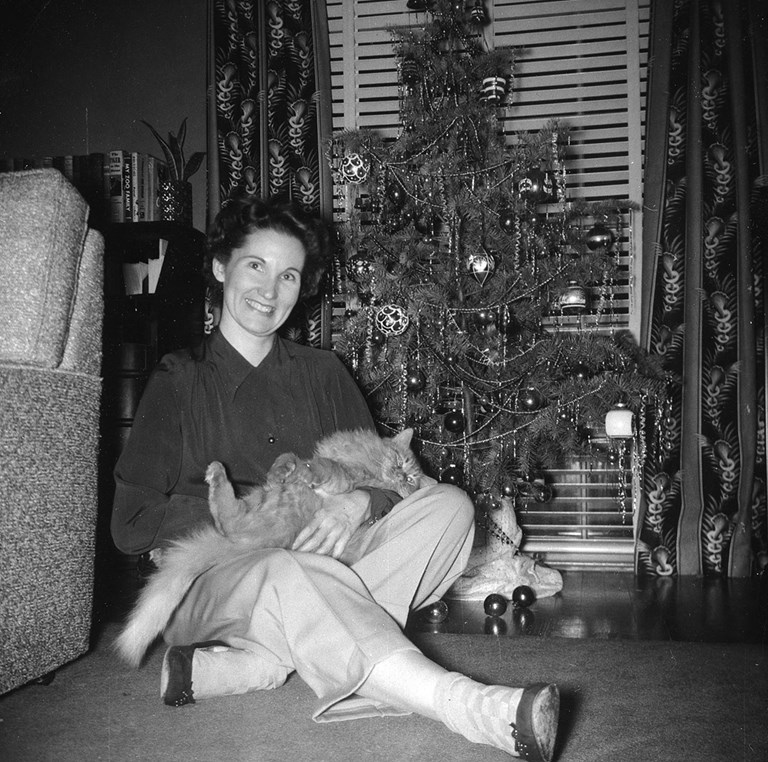 Woman with a big fluffy cat in front of a Christmas Tree, December 1955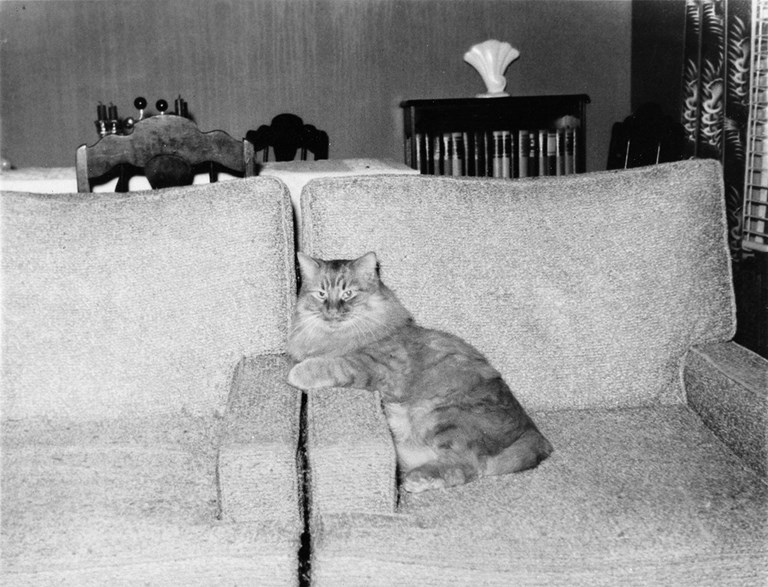 What I believe to be the same big fluffy cat. No date on this print, but if you look close you can see that it has the same couch and curtains as the previous photo with the woman.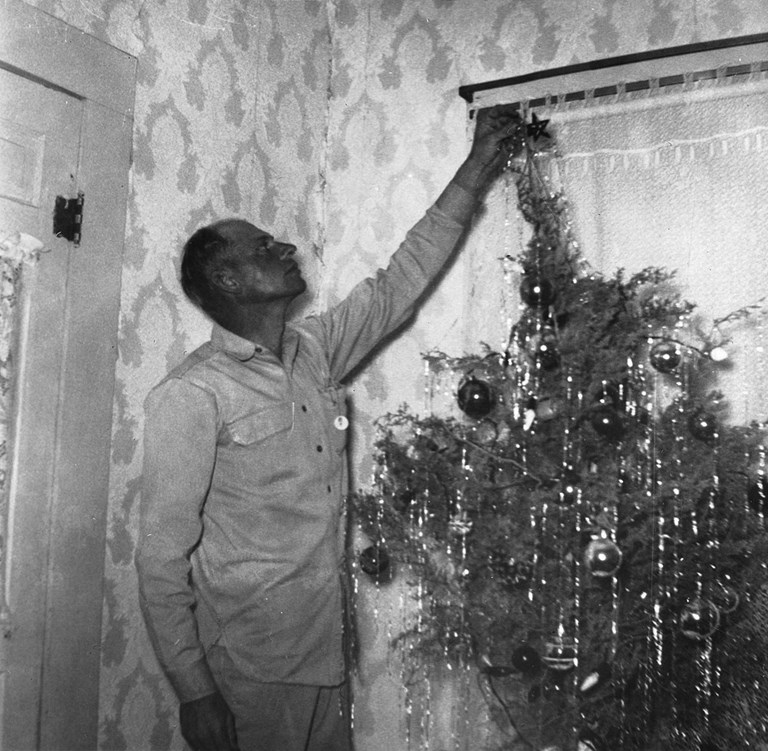 Speaking of Christmas trees, here is a photo of a man putting the star onto one. December 1954.
Five men posing with a car that says WOLF on it.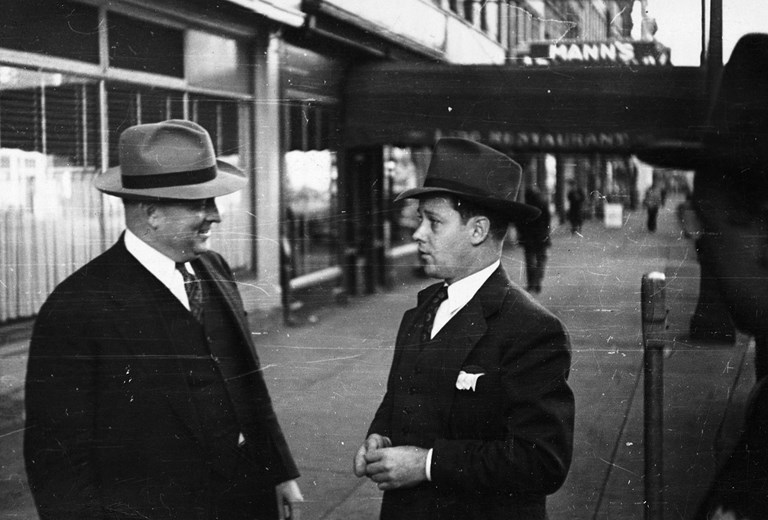 Two men on the street showing how to properly dress while wearing a fedora. Utica, N.Y. 1939 is penciled in on the backside.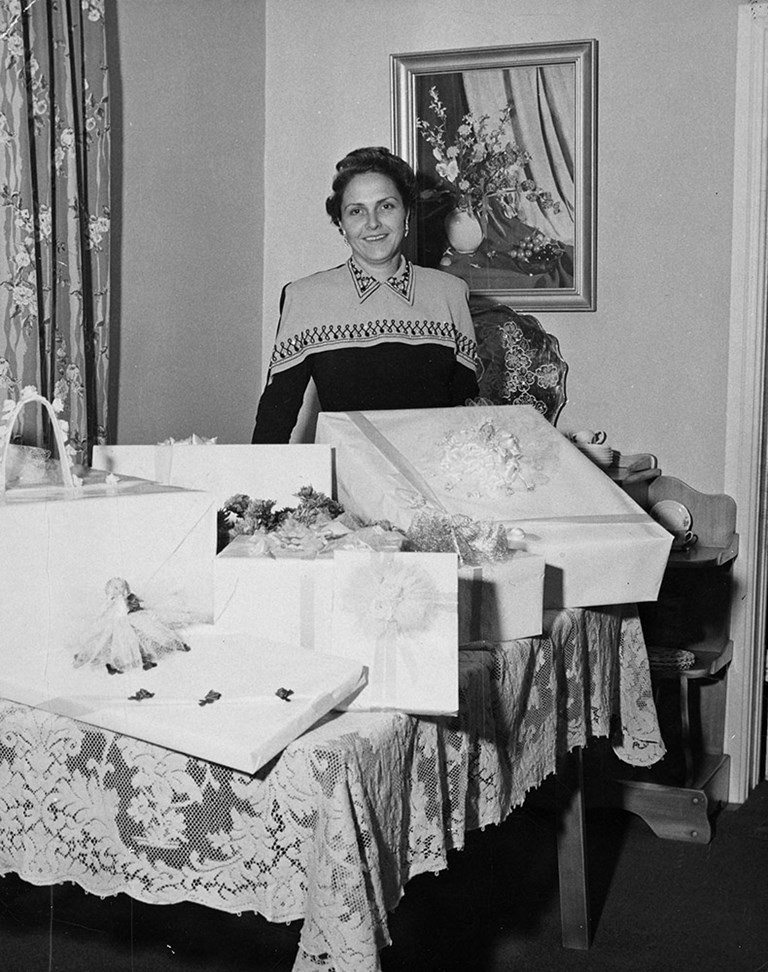 A woman with some large gift boxes set out in front of her.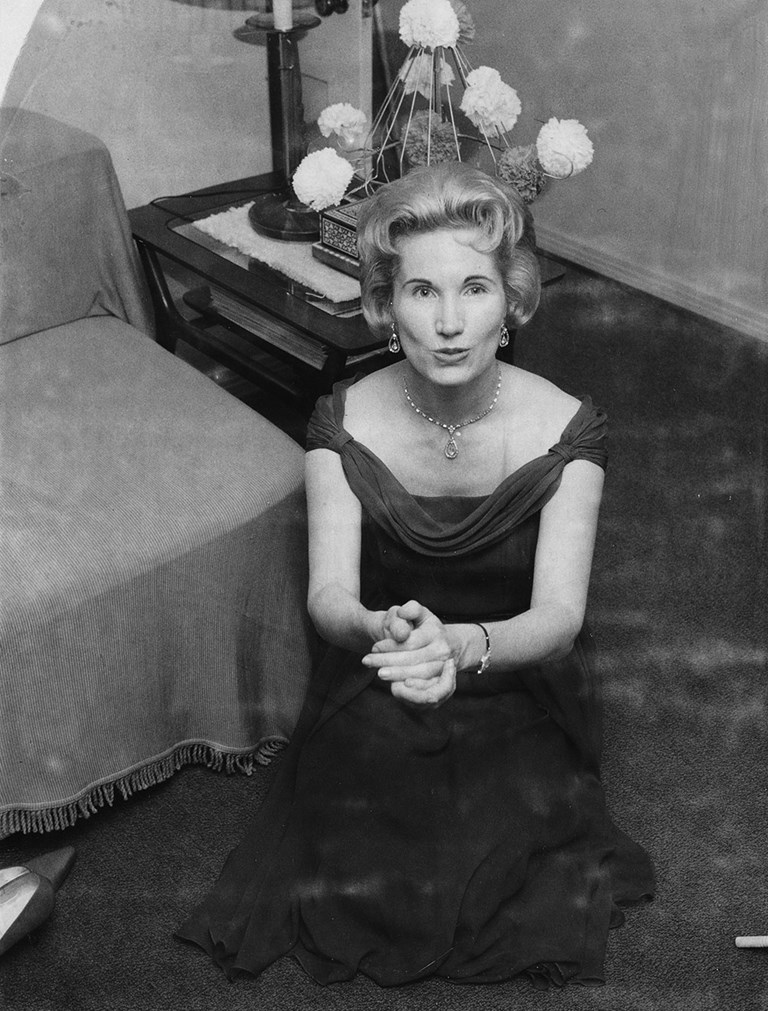 A Polaroid of a well-dressed woman on her knees begging? Praying?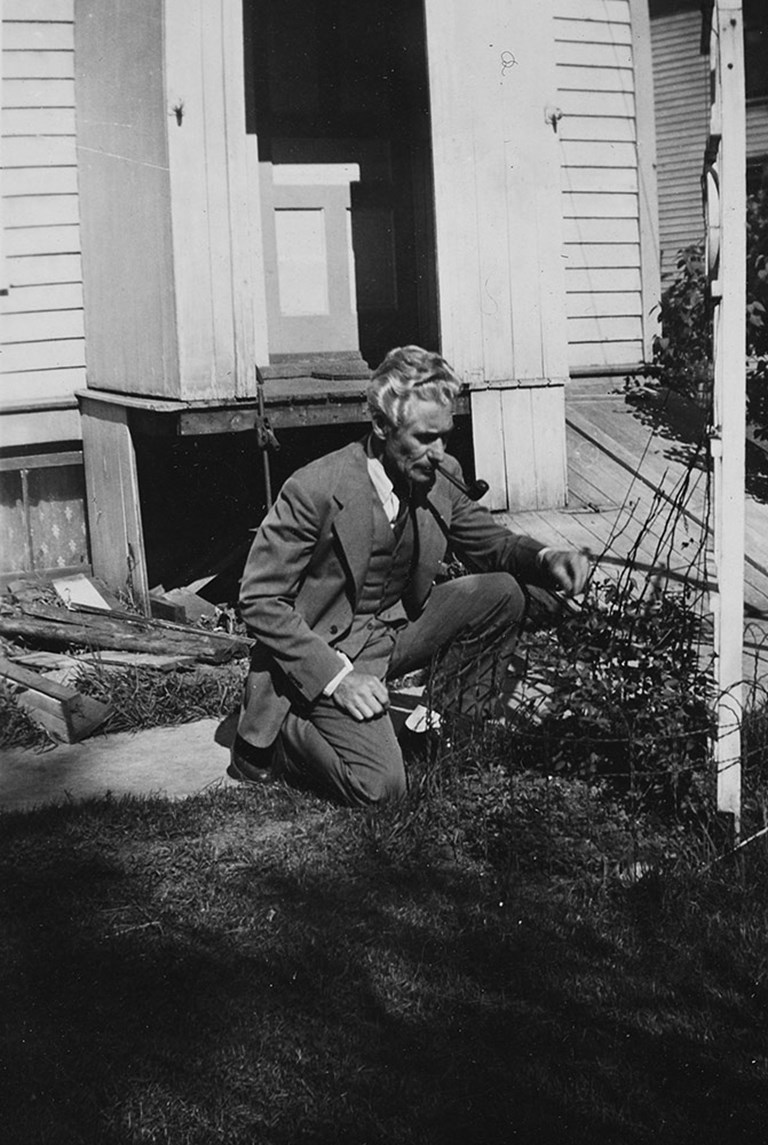 A well-dressed man who appears to be smoking a pipe while gardening.
The Color Photographs
I picked up a few color photographs this time around. Such as this Polaroid marked 1980 of a man sleeping in a chair.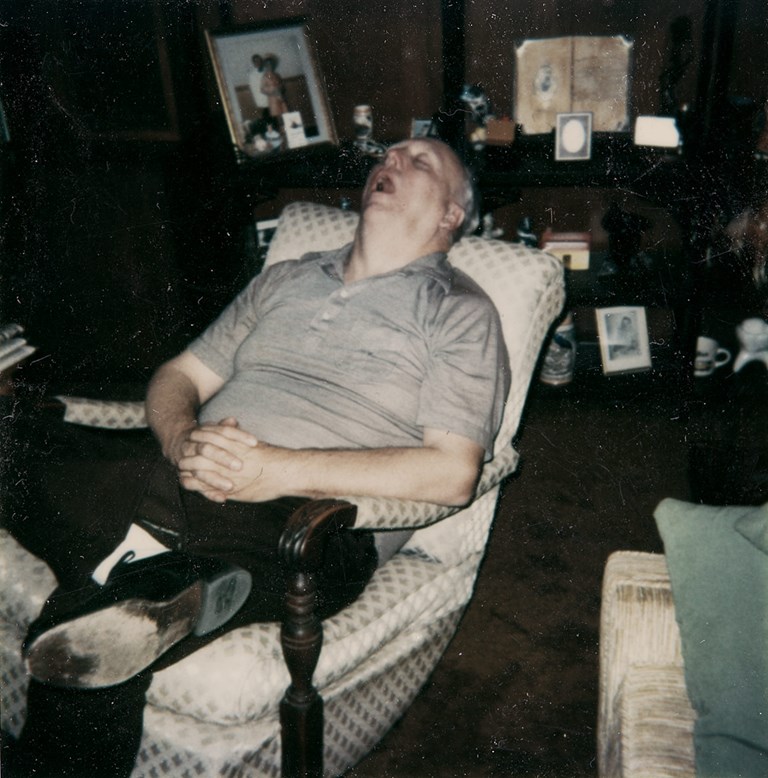 And this neat snapshot from some sort of party that doesn't have a year on it.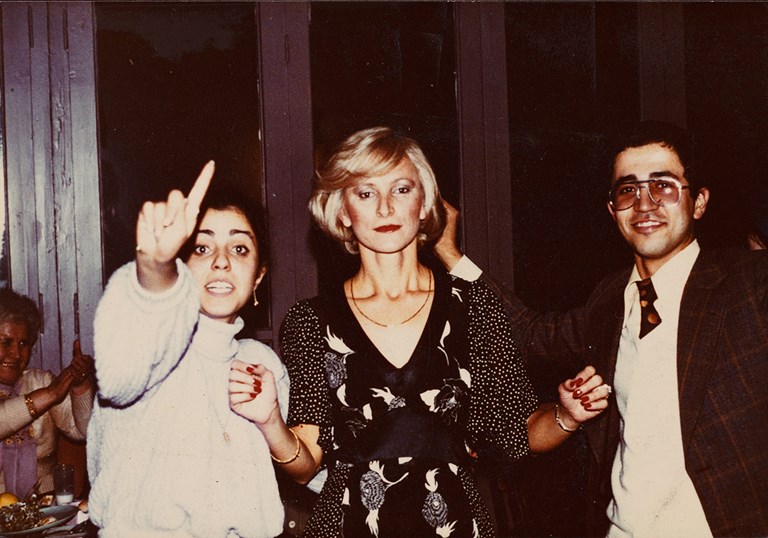 The Large Prints
Everything I've posted so far has been small prints of no more than five inches on any edge. I did find a few larger photographs this time that I feel are the cornerstones of this haul.
The first is this 5x7 of two well-dressed women hamming it up for the camera.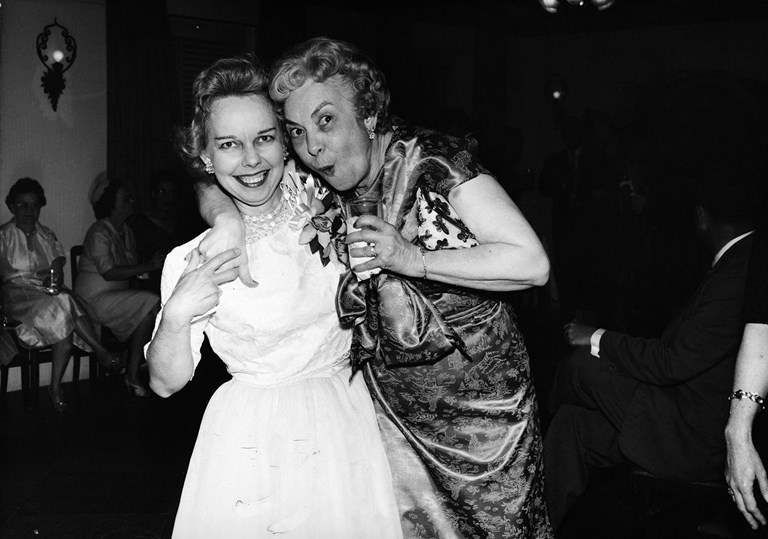 The second, measuring in at 10x10 inches is a portrait of an older couple of which the man appears to be VERY tall. This print is also the largest anonymous photo I think I've ever purchased. If I didn't recently acquire a drum scanner I would have had to have taken a poorly lit photo of it as it is too big to fit on my Epson flatbed.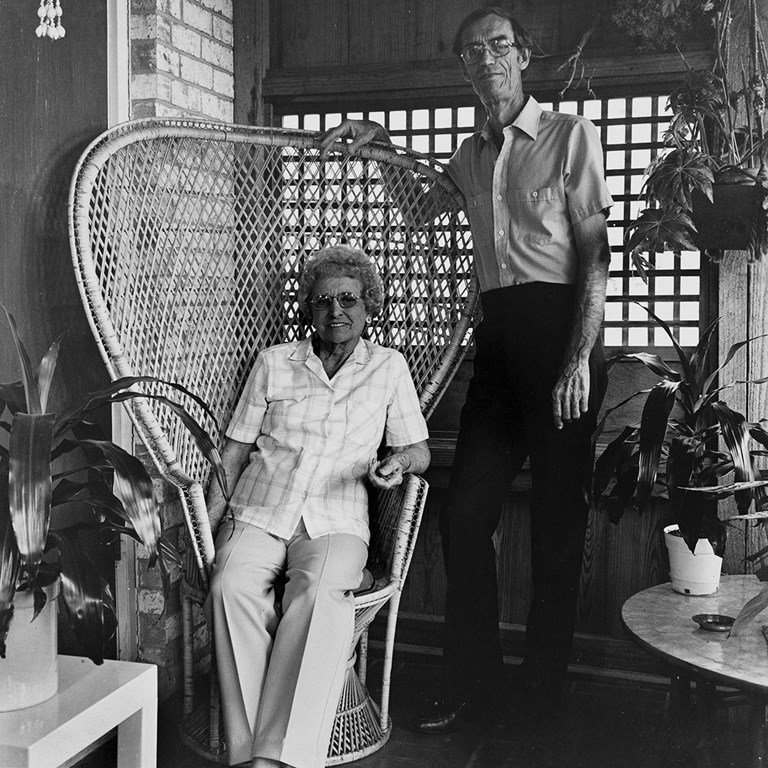 This concludes the Texas collection. Let me know your favorite and any theories about what is going on in any of the photographs in the comments.
---
---