The Story of The Time I Ran a Mile
K. Praslowicz
---
---
So last weekend was the annual Grandma's Marathon weekend here in The Zenith City. While in years past I have gotten down to the marathon to spectate and take photos, this year I managed to once again sleep through the whole thing. I give partial credit on this failure to the rise of Lake Avenue Live over the past few years. A nice event far more appealing than the official marathon party that that has given me an actual reason to go out the night before race.
The day before though I did stop in and observed the running of the William A Irvin 5k.
The head of the pack flew by and soon the slower middle of the pack was rumbling past. I wasn't standing very far into the course, maybe 1500 feet or so, so I took notice of people who were already shifted down a gear and were walking. Fifteen years ago the douchebag twenty-year old me would probably have thought "Ha ha ha. Sign up for a 5k and have to walk this soon into it! n00b!" before walking off to lay on a couch and drink a Mt Dew. But since the more sensible mid-thirties year old me was present instead, the thoughts were more along the line of "Interesting. I wonder how far I'd be able to make it before I had to stop and walk. I have no idea."
I think I might have had some sort of dream that night where I was running, and it was effortless. Later in the afternoon after six thousand other people paved a twenty-six mile trail of gel packs and nipple blood between Two Harbors and Duluth, the unanswered question of could I even make it a mile? kept niggling at my mind. The last time I recall every attempting such a feat was in fourth grade when we had to do four laps around the playground at my elementary school. I remember that sucking. I'm sure I had to do it again at some point of my public education time, but that is the one that always stuck.
Fine. I'll do it. I need an answer.
I hopped onto Strava and figure out exactly where I needed to go to make one mile that started and ended at my doorstep. I put on some shorts and stepped outside.
But first, some additional history.
Between the ages of zero and thirty-three, the most amount of exercise I think I ever got was whatever we were forced to do during physical education classes. By 2012 simple things such as standing for ten minute were starting to become a factory of pain. Getting out of bed made my knees makes sounds similar to a truck backing over a box of light bulbs. I may be wrong, but I also assume my lungs weren't suppose to make popping sounds when I tried to breath deep.
For corrective measure I bought a bike in early 2013. I've put over 3200 miles in since, and have completed one of the most difficult races in the region. Lungs no longer click. Knees no longer crack. How bad can a mile run be? I'm ready for it!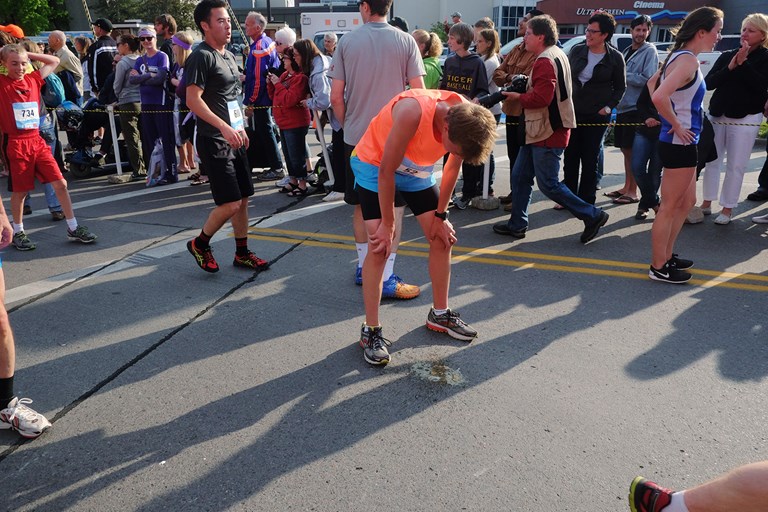 Took me just under ten minutes to finish the mile route. I had to slow down to a walking pace for a few seconds maybe three or four times, but didn't vomit thank God. Two years of cycling cardio definitely helped out a ton. No splitting side aches! Head kind of hurt though.
I submitted my GPS times and didn't even care that auto-correct changed mile into mole and went back inside to clean up.

I thought that was the end, but it wasn't. Eight hours later my head still had a nice headache from the run. I was also starting to feel it in the legs. By morning the headache was gone, yet my legs started to really express their anger with me. Took until three days later for me to finally say that the pain went away. Funny how cross training can find new ways to move already developed muscles in way that they aren't prepared for.
I still don't think running is quite for me, especially with my family's history of having terrible knee joints. Though I expect I will probably do the same loop from time to time, if only because I'm a data junkie and want to see time differences now vs the future when my legs are used to using those muscles.
And that my friends is the story of the time I ran a mile.
---
---