Zeiss Ikon Cameras: For Better Pictures - 1952 Advertisement
K. Praslowicz
---
---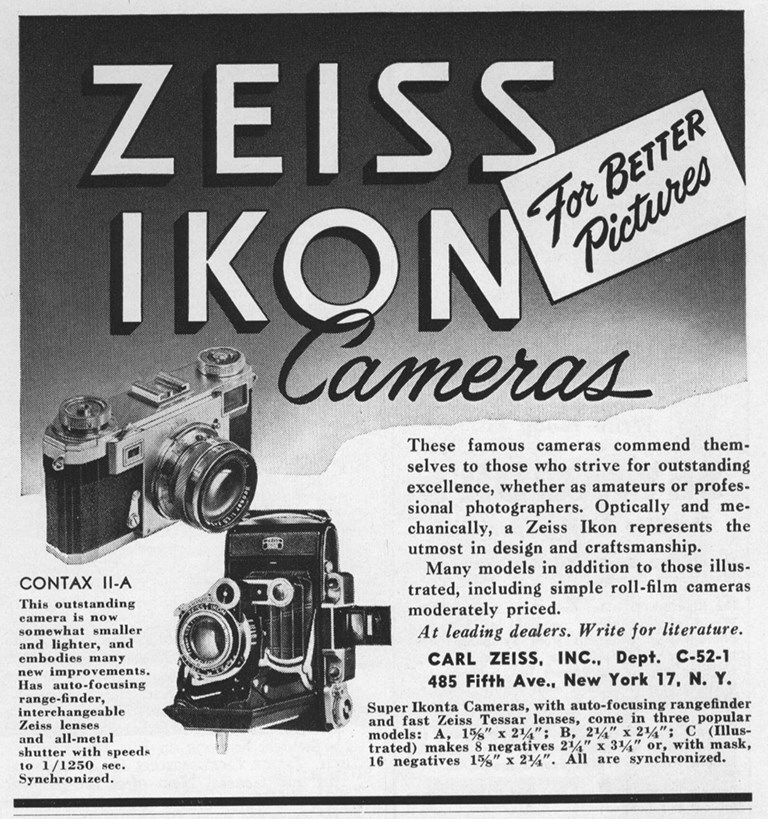 These famous cameras command themselves to those who strive for outstanding excellence, whether as amateurs or professional photographers. Optically and mechanically, a Zeiss Ikon represents the utmost in design and craftsmanship.
Many models in addition to those illustrated, including simple roll-film cameras moderately priced.
At leading dealers. Write for literature.
CARL ZEISS, INC. Dept. C-52-1
485 Fifth Ave., New York 17, N.Y.
Super Ikonta Cameras, with auto-focusing rangefinder and fast Zeiss Tessar lenses, come in three popular models: A, 15⁄8" x 2¼"; B 2¼" x 2¼"; C (Illustrated) makes 8 negatives 2¼" x 3¼" or, with mask, 16 negatives 15⁄8" x 2¼". All are synchonized.
CONTAX II-A
This outstanding camera is now somewhat smaller and lighter, and embodies many new improvements. Has auto-focusing range-finder, interchangeable Zeiss lenses and all-metal shutter with speeds to 1/1250 sec. Synchronized.
Hey
So I've been experimenting with video production again and am trying to grow my YouTube channel with some photography related videos. I'd appreciate it if you hit the button below to subscribe!
---
---