Zeiss Ikon Cameras: For Better Pictures - 1952 Advertisement
K. Praslowicz
---
---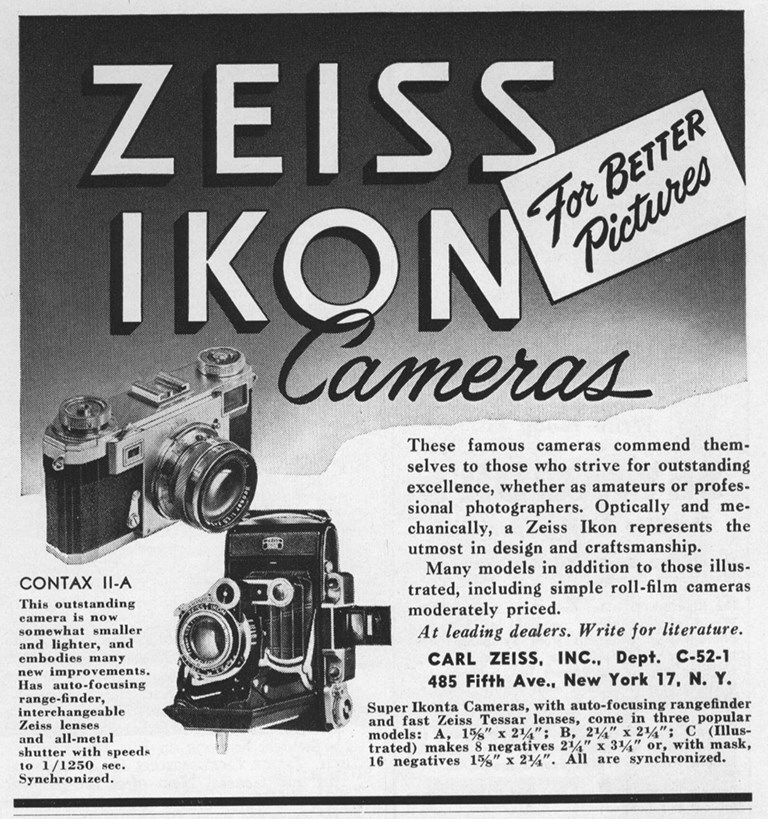 These famous cameras command themselves to those who strive for outstanding excellence, whether as amateurs or professional photographers. Optically and mechanically, a Zeiss Ikon represents the utmost in design and craftsmanship.
Many models in addition to those illustrated, including simple roll-film cameras moderately priced.
At leading dealers. Write for literature.
CARL ZEISS, INC. Dept. C-52-1
485 Fifth Ave., New York 17, N.Y.
Super Ikonta Cameras, with auto-focusing rangefinder and fast Zeiss Tessar lenses, come in three popular models: A, 15⁄8" x 2¼"; B 2¼" x 2¼"; C (Illustrated) makes 8 negatives 2¼" x 3¼" or, with mask, 16 negatives 15⁄8" x 2¼". All are synchonized.
CONTAX II-A
This outstanding camera is now somewhat smaller and lighter, and embodies many new improvements. Has auto-focusing range-finder, interchangeable Zeiss lenses and all-metal shutter with speeds to 1/1250 sec. Synchronized.
---
---